The Happy One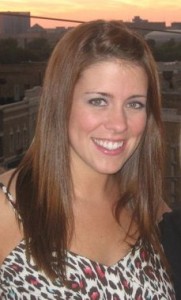 Born and raised in the hills of southern Indiana, next to a buffalo, donkeys, and sheep.
Grew up in Shoals, IN, a "blink and you'll miss it" type of town. Graduated from Shoals Jr. Sr. High School with academic honors in 2002 and continues to be a proud Jug Rock. Received a Bachelor's of Science with Distinction in Elementary and Exceptional Learning from Indiana University-Bloomington, 2006.
Moved to Indianapolis, IN upon graduation and worked as a special education teacher in the inner city and a southside suburb. Resigned from her beloved position at Break-O-Day Elementary, to relocate to the arctic (Brooklyn Park, MN).
Currently bracing for the terribly cold, long-lasting winter and enjoying her new position as special education teacher at Kimberly Lane Elementary in Wayzata Public Schools.
Loves her family and friends dearly as well as working out, cycling, watching silly reality TV, reading her Nook, and supporting the Colts, Hoosiers, and Pacers.